About 6 months ago, I wrote about how I replaced all of my dad's networking gear with Ubiquiti products including the USG
, Cloud Key
, and a pair of UAP-AC-LR
s. While it didn't completely cure his Internet issues, we were at least sure that the router and access points weren't the problem. His cable provider kept doing work on the connection and eventually he replaced the cable modem with an ARRIS 6183
. I don't believe that the cable modem was the problem, but I wasn't going to argue with it working (we had already swapped out the cable modem with a different SB 6141).
The gear has been rock solid; one of the access points wasn't touched since the day we installed it; the USG was rebooted when the cable modem was replaced and my dad had to reset the other AP when he did some wiring changes in a closet.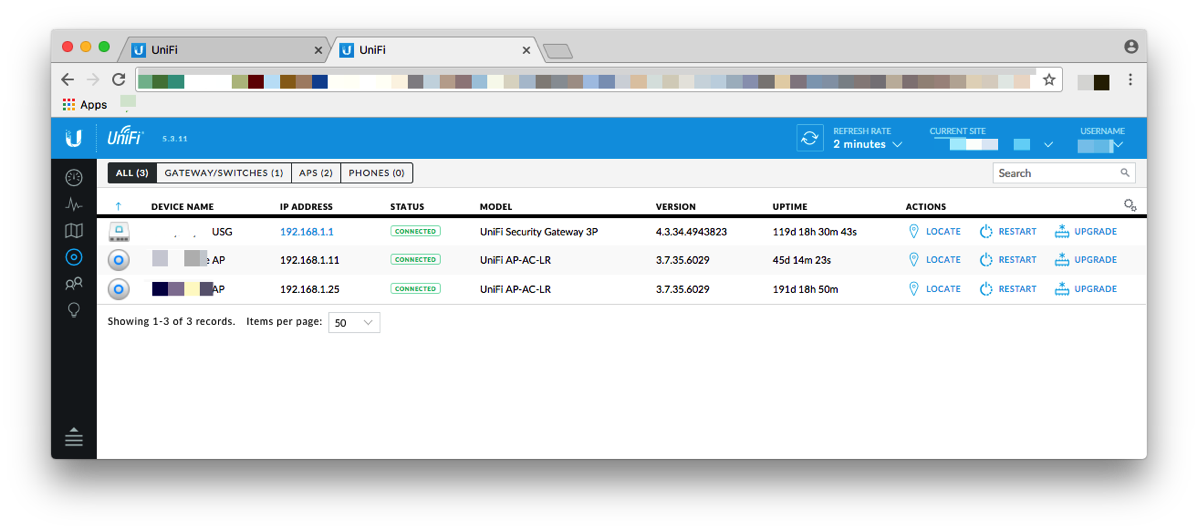 Ubiquiti has been putting out regular updates to the equipment, but I decided to just leave it on older versions as everything was running. Yesterday I went ahead and performed the upgrade remotely which was quite scary as any firmware upgrade could render a device useless. Luckily upgrading all components went smoothly; the Cloud Key took a little longer than expected and I almost panicked when it didn't come back online.
I asked my dad if he's had any problems with the Internet and he said no; this was news to my ears. Prior to installing the Ubiquiti equipment, the family's solution for any time they had a problem was to reboot the cable modem and router. This no longer happens and everything just works.
As much as I'd like to recommend this type of setup for the average household, the separate components make it intimidating. For anyone with a little networking knowledge that has to handle an Internet connection for someone else like a family member or a small business, I'm not sure that you can beat Ubiquiti for the features at the price point.
Yes, I know I sound like an advertisement, but the more I use their hardware, the more I keep looking at reasons to get more and see what it can do.