For as many years as I can remember, I've been the goto person for my family when they have tech problems. Anyone that is in this situation knows that this gets old pretty fast! At the beginning of January, my father started having problems with his Internet connection where he said it kept going out. I told him to call the cable company and get them to come out. He wasn't quite convinced that it was the cable company, so he spent about a week testing out his router/access point (Apple TimeCapsule) and my sister's router (similar device). (My dad and sister live in separate houses on the same property.)
After no real change in the stability of the connection, my dad started the game of contacting his provider. He also told me that he wanted the same router and access points that I have. Initially I said absolutely not as I didn't want to have to walk him through configuring the UniFi devices. While the UniFi controller is pretty easy to use, it isn't aimed at consumers. I thought about this for a day and told my dad that I'd set him up with a new router and access points on the condition that I managed all of it remotely. Once the UniFi gear is setup, there is very little management needed.
I purchased 2 UniFi UAP AC LR Access Points, a UniFi CloudKey, and a UniFi USG. I had an old Netgear PoE switch that I threw into the mix.
Setup of the pieces was pretty easy. I put all the pieces on my floor, connected them, and then hooked my MacBook Pro up to the USG to create a separate network. In addition to configuring the devices, I labeled everything and put "DO NOT UNPLUG" on the devices as power cycling seems to be a popular way to "troubleshoot" Internet connections. As I hadn't used the CloudKey before, I was slightly confused that I had to goto the web interface of the CloudKey as well as the web interface for the USG for initial setup. I don't remember the exact steps, but it only took a few minutes to get things running.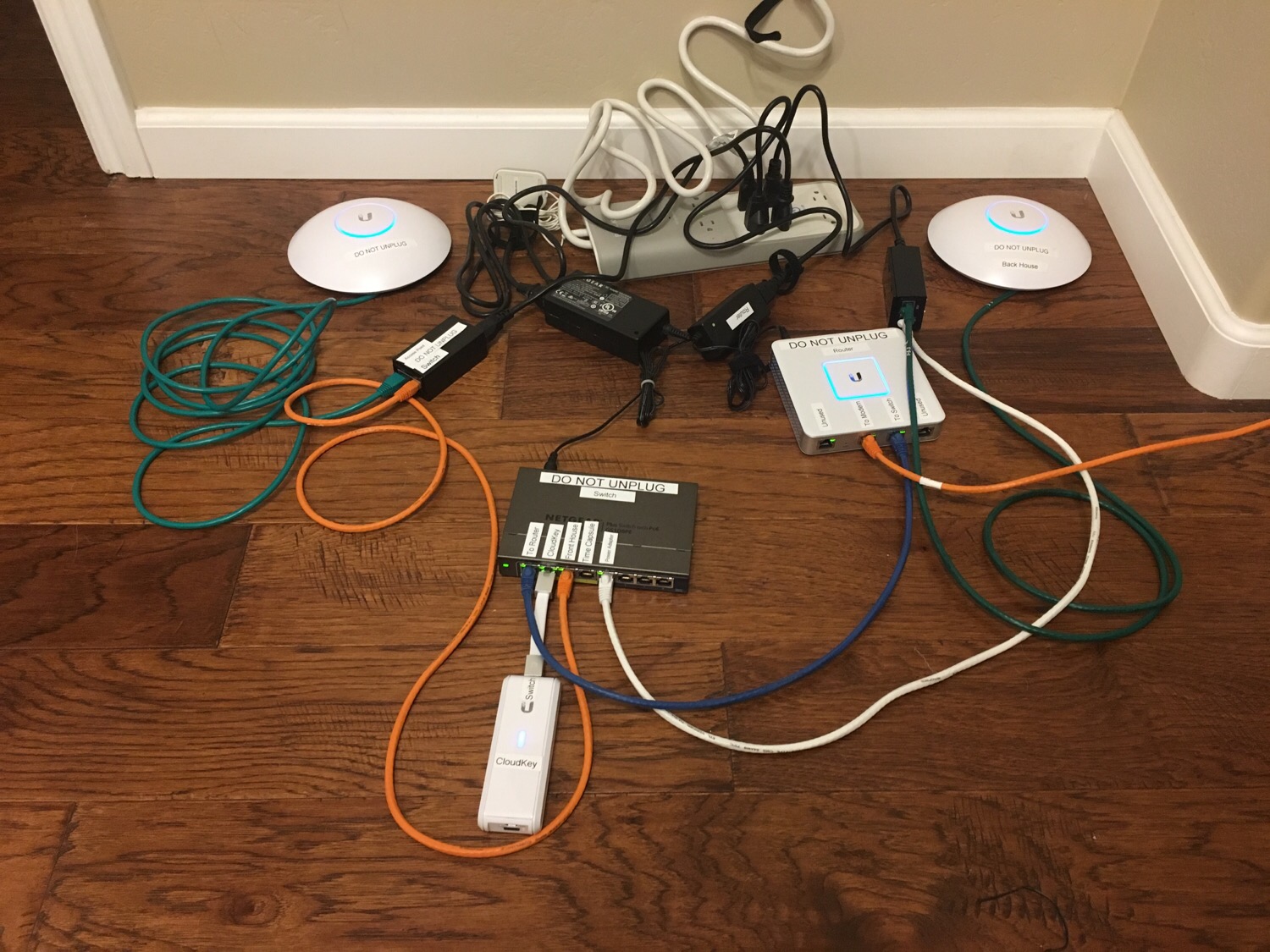 I setup the UniFi Controller on the CloudKey to use my UniFi login so that I could remotely manage it.
My dad and I installed the USG, switch and 1 access point next to the cable modem which took a little while to make everything look neat. The USG and the switch have those dumb slots for screws that I can never get right on the first or second try. The access point, however, has a removable base that made it a snap to install in the closet where all the equipment lives.
Once I powered everything on, it just worked as I setup the wireless networks with the same SSIDs and passwords that were already used. The only slight problem was that I had to turn off WiFi on the Time Capsules as devices were connecting to the wrong access point.
The UniFi iOS app has come a long way since Ubiquiti started it. The app now has everything I need to remotely monitor and manage the network. Ubiquiti uses a protocol for remote management that works in Chrome (on the desktop), but currently not Safari, so using the iOS app is the only way to look at the remote setup from my iPad.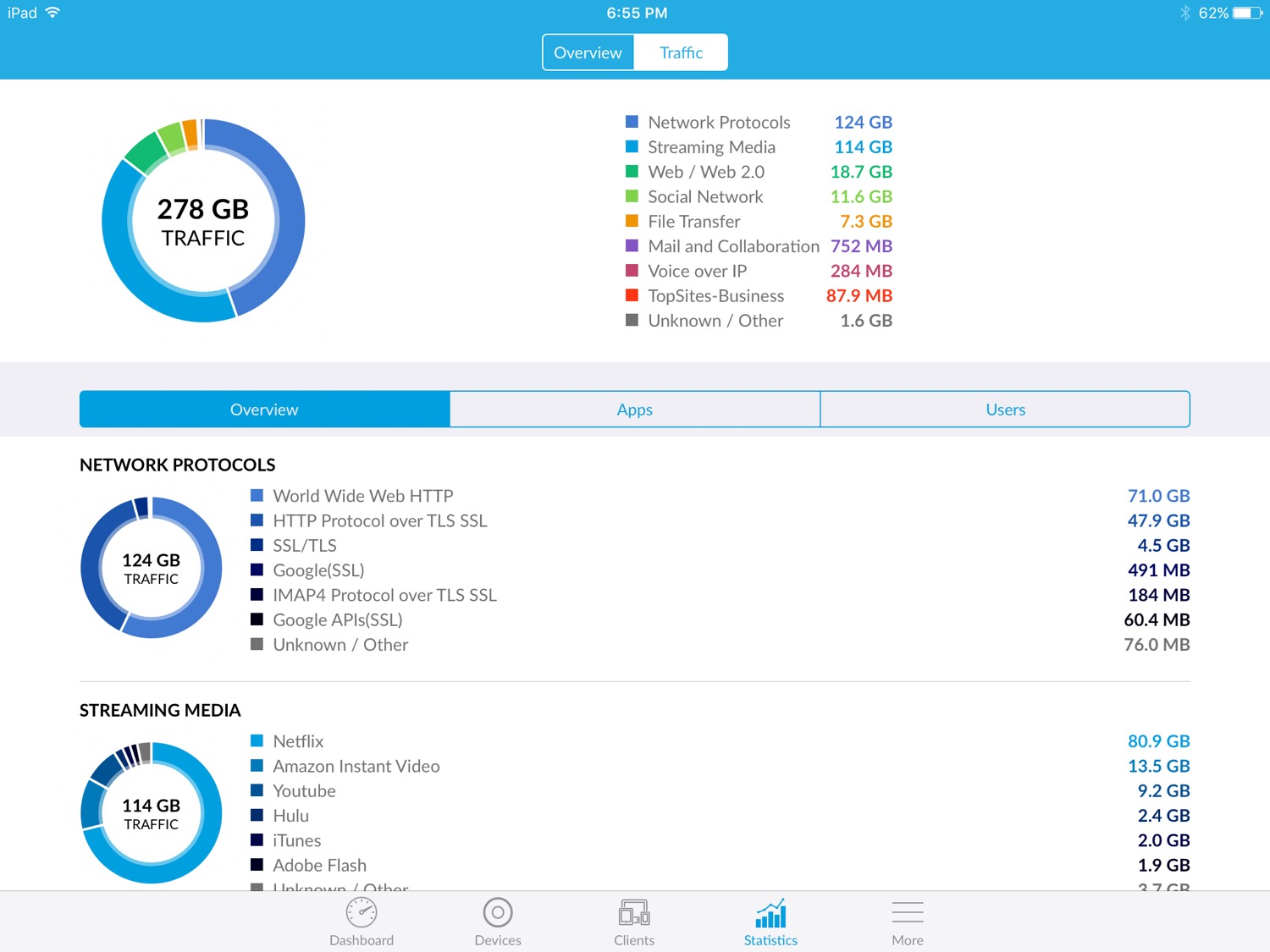 While my dad's Internet connection has been up and down over the last 12 days, the USG and access points have been rock solid. The cable modem has been rebooted a number of times, but none of the UniFi gear has been touched.
This type of setup isn't cheap, but it seems to be on par with some of the newer mesh systems.
Pros
USG, CloudKey, and UAP AC LR are easy to setup for networking savvy people.
Mobile app can handle most of the monitoring and configuration.
UniFi Controller with the USG shows traffic statistics in pretty pictures!
Remote access works well.
Very stable.
Access points provide good coverage.
Cons
UAP AC LR uses passive 24V PoE. The PoE switch I installed is 802.3af which means that I had to use a power injector to power the access point (I could have bought an adapter from Ubiquiti to conver the 24V to 802.3af).
Average consumer cannot easily setup the equipment.
USG is missing some features such as GUI configuration for IPv6, static DNS entries, DHCP reservations (before device is seen on network).
Default guest network configuration uses client isolation such that guests can't connect to other devices on the network, but the guests can scan for other devices. I changed the configuration to use a separate VLAN and give out IP addresses in a separate range for guests. I think that this may be a better setup for an out of the box configuration when the wizard asks if you want a guest network.
When I inserted the micro SD card into the CloudKey, it got stuck. I basically had to destroy the card to get it out. I'm not sure if this was a design issue or a manufacturing issue, but I put a new micro SD card in there and everything works fine.
Summary
While I was hesitant to set my dad up with the same networking equipment I have. I now believe that this will be the best long term strategy to supporting him. If he or my sister blame the router and access points for Internet problems, I can show them that it isn't. Being able to remotely monitor and configure the devices (including performing upgrades) is a great benefit to anyone having to deal with someone's Internet issues.
I hadn't played much with the USG prior to this install as I use the EdgeRouter Lite. However, based on this and the periodic updates to the firmware and controller, I'm definitely going to be switching over to the USG in the near future (there are a few items on Ubiquiti's roadmap that I want).
With Apple exiting the router market, people are looking for alternate solutions. If you are savvy with networking, I think the USG, UniFi Access Points, and CloudKey (unless you have an always on machine to run the controller) are a great combination. For a home setup, it may seem like a lot of money, but how much is my time worth?
Note: The USG was sent to me by Ubiquiti as a review unit. It has been sitting on my shelf for a year now simply because the controller software wasn't exactly what I wanted at the time. The controller software has come a long way and if I had to choose between the Edge Router Lite and the USG, the USG would now be my choice.