I love having the right tools for the job whether it is software tools or physical tools to tackle projects around the house. As I've mentioned before, I really like the Ryobi 18V One+ line of tools. I have a number of the tools and keep adding to my collection. While the tools may not be contractor grade, they are more than enough for my uses.
Last year they announced a number of new tools in their collection including a new Power Source that can charge batteries from USB-C as well as power USB-C devices. Unfortunately the product isn't available and I check Ryobi's website every few days to see if the "Coming Soon" button changes to "Buy Now".
A few weeks ago when I was checking the site, I noticed the Hobby Station which takes on of Ryobi's rotary tools and turns it into a drill press and holds the tool making it easier to use. This was a little expensive for what it was, but I decided to order it. Even though I don't own any of the rotary tools that Ryobi says works with it, I though that I might be able to use my P460 Rotary Tool Station with it if I screwed off the top housing. What I didn't realize at the time is that the diameter of that housing and the diameter of the tools that are designed to work with the station are different.
The Hobby Station arrived and I quickly set it up. When I put the tool in the holder, I found my mistake where the tool was too small. However, that didn't deter me. I screwed the tool in place and it gripped the rubber and seemed fairly secure. Perfect, I didn't have to return it!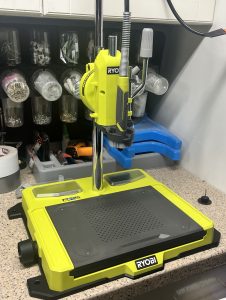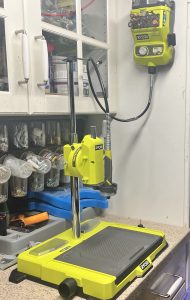 Later I thought about the main nut holding the tool in place digging into the rubber and didn't like it. So I looked for a reducer bushing and thought I found an irrigation one at Home Depot, but realized that the threads probably wouldn't match. Not deterred by this, I asked my son if he could design a part and I could 3D print it. After a number of test prints, we had a working bushing! While it isn't an exact fit, the plastic is soft enough that the threads of the tools can dig into it and provide a fairly tight fit.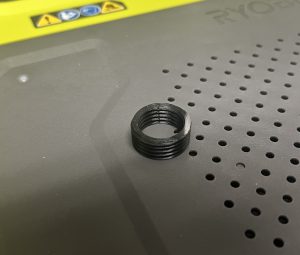 Now that I had a working hobby station, what do I think? For starters, the drill press has limited utility. With my solution, there is a bit of wiggle in the tool and frankly, how often have I needed a drill press? The station does hold the tool and make it easier for me to just hold the working piece. The angle adjustment is somewhat useful as I can see myself using it facing straight down or at a 90 degree angle. I don't know how much I'll use the fence that comes with it or use the vacuum attachment.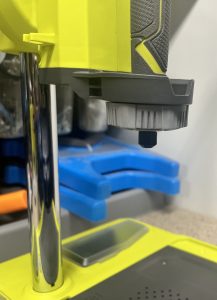 Pros
Convenient way to hold a rotary tool
Flexible angles to hold tool
Appears well made
Cons
Only works with some rotary tools
Drill press has limited utility
Over priced
Summary
This tool is definitely over priced and has limited utility for many people. It isn't a precision instrument which is needed for a drill press. It does seem like it is built solidly and will work for my needs; holding the rotary tool while I work on something is very useful for me.
Unfortunately I can't recommend this to others; I will keep mine, but there are probably better solutions out there. If Ryobi had included a reducer bushing to fit their other rotary tools, it may have been a more compelling purchase and would definitely increase potential buyers.