Several years ago when Apple released Macs with USB-C connectors, there seemed to be a lot of talk about needing a bunch of dongles to connect things. When I got my first USB-C based Mac, I only had 2 dongles and was content. Over time, I saw various USB-C hubs that had multiple USB-A ports, power delivery, Ethernet and HDMI out. I bought one and used it for everything except the HDMI out as I use an old Thunderbolt Display.
When I bought my 2018 iPad Pro with USB-C, I tried the hub on it, but was told by the support folks that the iPad Pro wasn't fully supported; I guess the power delivery didn't work properly. It would have been nice for it to work, but it didn't really matter to me at the time.
Earlier this year I saw a sale on the Plugable 7-in-1 USB-C hub that had all the ports I'd ever need into SD card slots (I had been working a bit with SD cards at the time, so that seemed convenient). I used the hub with my 2017 MacBook Pro without issues, but never tested the HDMI output as I rarely took my machine anywhere.
Last month we were getting ready to go on a trip and I decided to check the hub to see if I could connect my iPad Pro to our TV in case we wanted to watch a show. The Plugable hub was advertised as iPad Pro compatible, so I had no reason to think it wouldn't work. When I plugged it in, all the colors were messed up. I plugged in my MacBook Air and it didn't have any problems.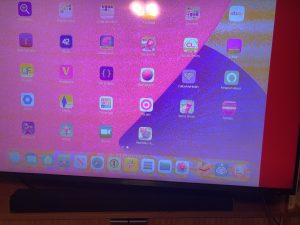 I contacted Plugable's support and they assured me it was compatible and started going through troubleshooting steps. For our trip, I brought the Plugable adapter as well as my older adapter that didn't have the same problem. When we wanted to watch a show, I decided to try the Plugable hub and much to my surprise, it worked fine. I sent my findings along with the model number of the TV in our room and thought maybe it was a 4K vs 1080p issue.
When we got home, I tried a few more troubleshooting steps that were recommended to me and didn't see any change. After much Internet searching, I discovered that when you plug an HDMI display into the iPad Pro, an extra option appears in Displays & Brightness for the display. Under connected displays, there is my TV, the 55R617.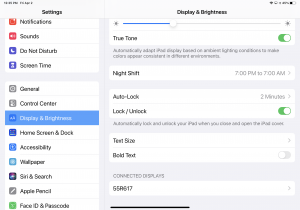 Tapping on the option brought up 3 choices for Preferred Display Setting with the checked one being Dolby Vision. I selected the second option (High Dynamic Range) and boom, the picture problem cleared up!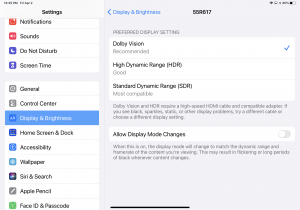 I relayed this information to Plugable support and the person I was working with commended me on my sleuthing and said that was exactly the issue as the chipset used in the hub didn't support Dolby Vision (extra licensing for it) and offered me a refund if I wanted it. I told him it wasn't necessary (support was great and would definitely recommend their products) as I just wanted to make sure I knew how to work around the issue when I traveled.
Now I can just bring 1 hub for both my iPad Pro and my MacBook Air when I travel and hook up either device to a TV if needed. As long as I remember to bring an HDMI cable (it's on my packing list), we should be good to watch our own content when we travel.