I've written a number of times about how much I like my Ryobi tools. This summer one of my small 1.5 Ah batteries died, so I looked at getting new ones. While many people prefer the larger batteries that last longer, my projects typically are short and don't require a lot of power. The small batteries are lighter and make the tools easier to use. Home Depot (the exclusive seller of Ryobi products), has a version of 1.5 Ah batteries that don't have a fuel gauge on them; to me, this makes the batteries pretty useless. There are a number of sellers on eBay selling the 1.5 Ah batteries with the gauges for about $30 per battery.
I saw that Ryobi released new HP brushless tools including a drill/driver kit with 2 1.5 Ah batteries that have fuel gauges! The cost, however, is $180 meaning the driver and drill are about $120. As I already have a perfectly good drill and driver, it was hard to justify.
For the holidays, I saw that Home Depot discounted the set by $40 bringing the cost to a bit more reasonable $140. I still didn't need the set, but the new tools are lighter than my current ones and potentially more powerful than the ones that I bought many, many years ago. I couldn't help myself and hit the buy button!
The tools arrived last week and the batteries are smaller and slightly lighter than my existing 1.5 Ah battery and have a sleeker design. The new impact driver weighs 842 g (without battery) and the drill 952 g vs 1192 g and 1226 g respectively for my old set (I have an even older drill that weighs 1420 g). The battery is 410 g vs 446 g for the 1.5 Ah battery. The weight differences are huge!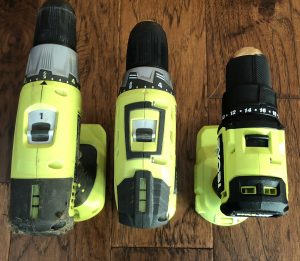 Left is the oldest drill/driver; middle was the one I bought a few years ago and the one on the right is the latest brushless drill/driver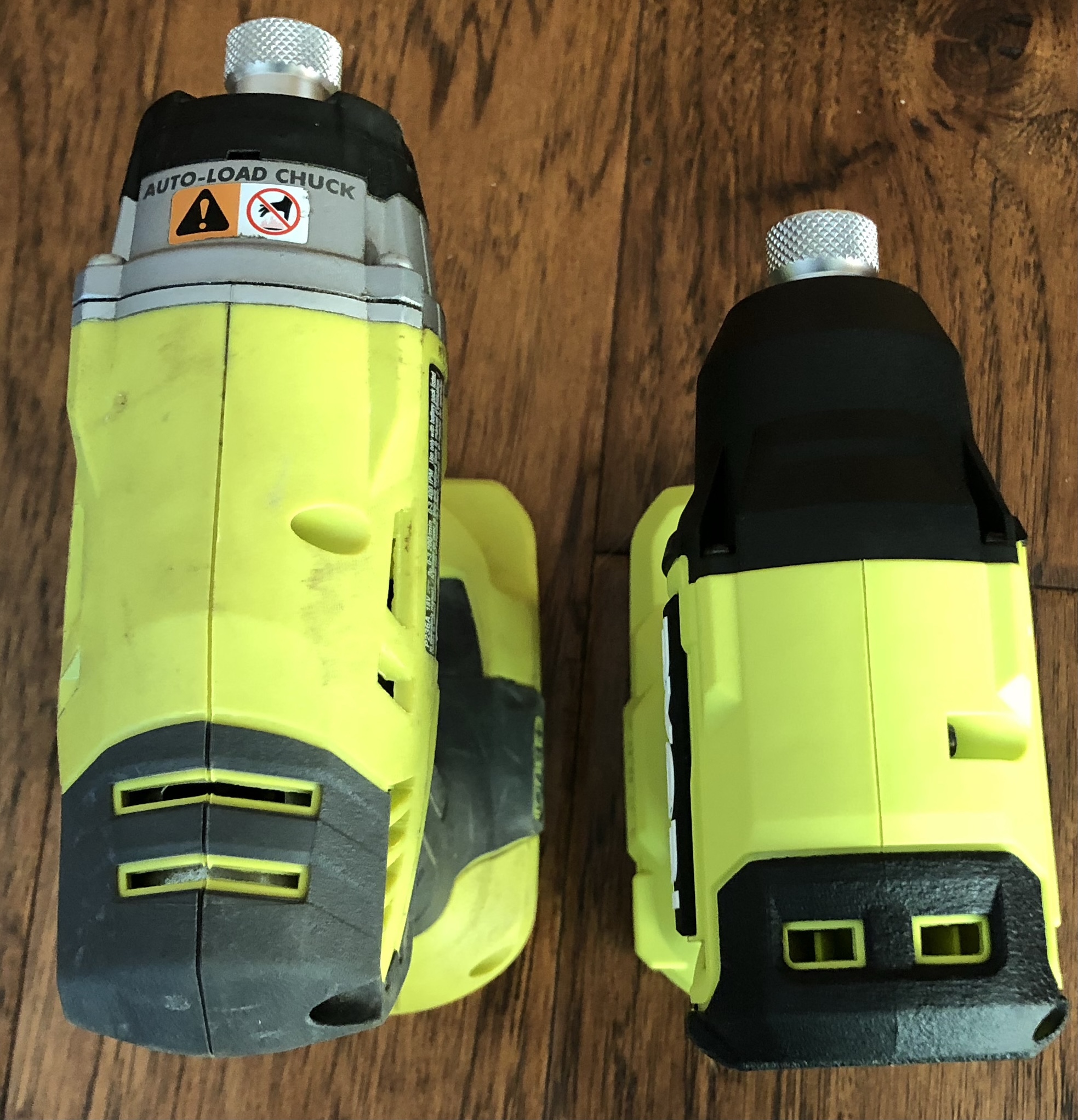 Left is old impact driver; right is new impact driver.
I've used both tools briefly and they perform well. Are they better than the older tools? Maybe marginally, but it is hard for me to tell. I've seen a video where the person compared the new brushless drill/driver with the old brushless driver and found it less powerful (he had some odd results depending on the type of battery he used). Am I going to notice? I will definitely notice the weight difference, but probably not the performance.
Pros
Brushless motors
Lighter than what I already had
Cons
May not provide better performance (depending on what you already have)
Summary
If you have existing tools that work, it is really hard to justify these new HP brushless drill/driver. Having extra batteries is always good and the lighter ones are well worth it for me. If the tools last as long as my old ones, then this will be an excellent purchase.
I was impressed enough with the set that I purchased the combo set for my dad. He has been using a 12V DeWalt drill for ages that is starting to fail. He likes the lightweight tools and I hope that he can get as excited for the Ryobi tools as I am.