Now that I have a MacBook Pro with only USB-C ports and no USB-C peripherals, dongles are the only way to connect devices. I wrote about dongles last year and have been happy with just a USB-C to Thunderbolt and a USB-C to USB-A dongle. I haven't seen the need for additional dongles, yet, but with the hopes that Apple will release its own display instead of promoting the LG UltraFine display I've been revisiting that.
With my current Thunderbolt Display, I have Ethernet, FireWire (I don't use it), Thunderbolt and 3 USB-A ports. If Apple follows LG's lead on a new display, the display will only have USB-C ports. If and when I purchase this magical display that doesn't exist, yet, I'll have to figure out how to connect my array of devices. Currently I am connected to the network through the Ethernet in the display which would go away with a new monitor. I always prefer wired networking over wireless networking, so when I was offered a SyncWire USB-C to Ethernet Adapter
to review, I jumped at the opportunity.
An Ethernet adapter is pretty basic; plug it in and it works. That was definitely the case with the SyncWire adapter. There were no drivers and it was instantly recognized by my Mac.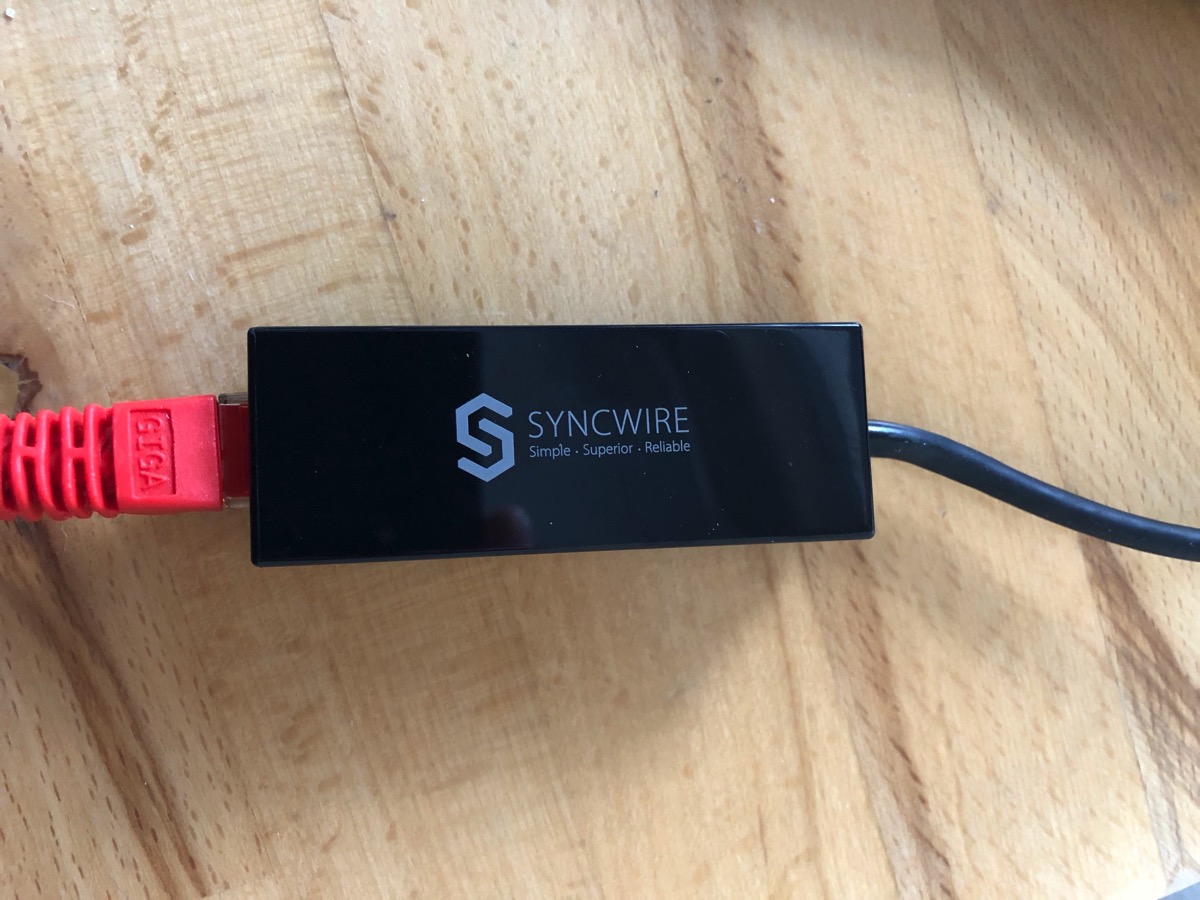 There are only a few thing that I care about for Ethernet:
Does it work?
Is it reliable?
Is it fast?
For the first two, I've been using the adapter for 5 days now and I haven't seen any hiccups. I disconnected the Ethernet from my display and turned off WiFi. I do regular backups and transfer a decent amount of through it which should put the adapter through its paces. For the last one, the test I used was iperf3 running between my MacBook Pro and my Mac Pro on the same LAN connected via a Ubiquiti UniFi Switch. The result is that the adapter could transfer data at over 900 Mbits/sec. This is definitely not bad. On WiFi, I can get about 360 Mbits/sec. When my MacBook Pro is connected to the Thunderbolt Display, I see about 935 Mbits/sec. I would have expected better throughput with the adapter, but in the real world I'll likely never see sustained speeds anywhere close to this.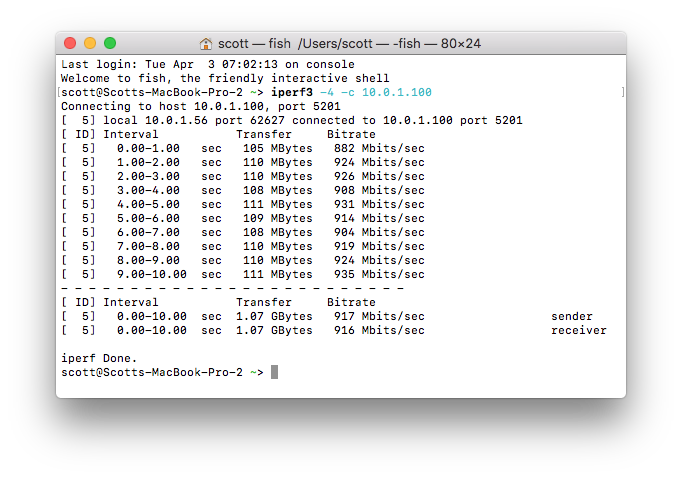 So far the adapter meets my three basic needs for a network adapter.
Pros
Compact size
Reasonable price point
Appears reliable
Decent transfer speeds
Cons
Unknown long term reliability
Summary
While I wasn't looking for a USB-C to Ethernet adapter right now, this would probably have been on my shopping list when I get monitors that only have USB-C ports. When I purchase equipment for my computer, I tend to goto brand names that I have heard of before as I don't like messing around with shoddy parts just to save a few dollars. I chose SyncWire for a few Lightning cables as they were MFi certified and were on sale. Prior to that, I had never heard of SyncWire and definitely wouldn't have bought their adapter. Now that I've had a chance to try out their USB-C to Ethernet adapter, I'm not sure I can recommend the product. While the price is right and it performs well, the big unknown is how reliable is the adapter in the future. If I was going to spend my money on an adapter, I'd probably look at a more dock like adapter that had USB-A ports in addition to Ethernet.
The purchase price of the adapter was refunded to me in exchange for writing this review. However, it didn't influence what I wrote.
I was asked to post a review of this product on Amazon, but it is against Amazon guidelines to post incentivized reviews, so I posted this review here.