I've been a huge opponent of consumer grade all-in-one devices (printer, scanner, copy, fax), so when I was talking to some friends at lunch and they recommended Brother devices, I had to see for myself. My biggest complaint on these devices is that the drivers are just awful and perform poorly. I picked up a Brother MFC-7840W
from Office Depot that was on sale for $229 (which is apparently now the regular price). I read Apple's support article on which devices had support built into Mac OS X 10.6; a few years back at WWDC, Apple said that Snow Leopard would have much better scanner support, so having drivers included in the OS meant that at least I could blame Apple if it didn't work well.
When I installed Snow Leopard, I didn't install the Brother drivers, so I thought there would be a problem. However, I plugged an Ethernet cable into the device, powered it on and then configured it in Print & Fax. The device was recognized, but said that it would use a generic driver. No problem as Apple's support article said that just do a software update after that and it would download the correct drivers. That's precisely what happened. A few minutes later and it was all setup and I did a test print. Now that printing worked flawlessly, it was time to check out the scanning (I don't have a phone jack on the side of the room where the device is, so I ignored the whole fax stuff and fax is something I never use).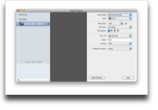 I fired up Image Capture (Apple's scanning/camera utility), selected the device and was easily scanning. I was pleasantly surprised as everything worked on the first try and scanning from the document feeder worked equally as well. So far, so good. The next step was to see how easily I could integrate scanning into an application using Snow Leopard's ImageKit and if the Brother device worked with it. I've done worked with TWAIN and Image Capture and both were a nightmare. Apple has sample code called ImageKit Demo which is basically the Image Capture application. Code worked and I was scanning from within an app; there is minimal code to do this, so again I was pleased.
The Brother device also has the ability to scan directly to FTP. While I would have liked Scan to Email, Brother only put in email functionality to report status on the printer and even in that case, didn't bother supporting SSL, so it doesn't work with Gmail as an SMTP server. After a few minutes of thinking, I figured out a clever way to use Scan To FTP. I have a Mac Mini setup as a media center that is on all the time, so I turned FTP on (I dislike FTP as it is an ancient, insecure and hard to use protocol due to how it uses 2 TCP ports). I setup a profile using the Brother web interface to scan to a folder I setup on Dropbox. So after the scan comes in, it goes to the Dropbox folder and then transfers to my Mac pretty quickly.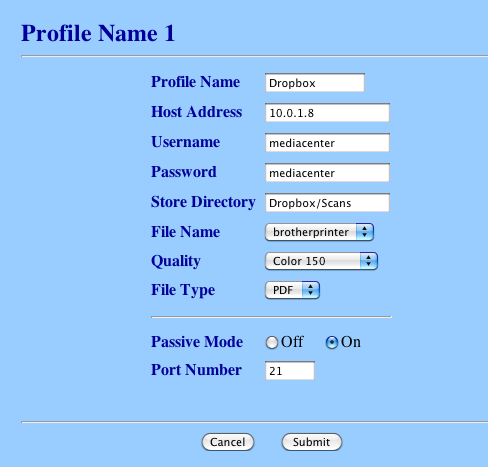 The downside of this is that it doesn't like mediacenter.local as a host name, so I had to give it a static IP address (not a problem as I used my Time Capsule base station to assign a static address to my media center). Note that the Brother broadcasts itself via Bonjour, so the engineers at Brother clearly know about Bonjour and using Bonjour addresses. Turns out that this setup came in handy as I was in Portland the other day and needed something scanned, so I just asked my wife to put the item on the scanner, choose Scan to FTP from the front panel and a few minutes later, I had the file, all without my wife having to install drivers or learn how to use Image Capture (the drivers are on her computer as I setup the printer on her machine as well).
The printer is very fast compared to the HP LaserJet 2100 TN that I've had for 8 years (I bought it used off eBay), is quiet, and the scanning is a dream. The document feeder doesn't do double sided scanning (at least not that I've found) and isn't as fast as my Fujitsu ScanSnap
, but it sure is convenient to scan directly from the front panel.
Pros
Easy setup.
Drivers are distributed with Snow Leopard.
No junky scanning application.
Web based interface for setup.
Networkable.
Convenient scanning.
Fast printing.
Decent price.
Quiet when it goes to sleep.
Cons
No scan to email from front panel.
Email settings for reports don't handle SSL (no Gmail support).
Scan to FTP doesn't recognize Bonjour addresses.
Not as fast as a dedicated scanner.
Summary
So far, this device has completely changed my mind on all-in-one devices. The easy to use scanning interface without a dedicated scanning application makes scanning a breeze. The printer is fast and produces decent output. When the device goes to sleep, it is virtually silent; I always turned my old printer off after using it as the buzzing drove me crazy. The sticker price isn't that bad and overall this device is the machine I would like to have seen years ago. I had an HP and EPSON all-in-one device (both inkjet instead of laser like the Brother) that were both put out to pasture awhile ago due to their poor drivers and not so user friendly interface.
If you're shopping for an all-in-one device, this Brother device may be for you. I'm extremely impressed with it and should have gone with Brother years ago (granted some of the Bonjour stuff and Scan to FTP might not have been there).