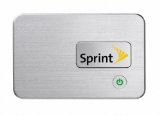 A few months ago, I got a Sprint MiFi 2200 to test and use for work. When I first saw this device at CTIA Wireless back in April, my jaw just dropped because of the size and utility of the device. In case you don't know what it is, it is a mobile WiFi hotspot.
For a number of years, I've written drivers/applications for various USB modems. While USB modems do have many uses, the lack of drivers drew me to the MiFi. The quality of drivers/applications ranges from good (the ones that are built into the OS are best) to not so good, so by eliminating the drivers, my main complaint about modems goes away. I also really like the ability to connect more than one device to it when I'm in a situation with co-workers without a broadband connection. In addition, having the modem separate from the computer lets you put the modem next to a window and you can sit somewhere else in say a hotel room. This is huge when you have trouble getting a signal; you no longer have to have sit next to the window.
Really my only complaint about the device is battery life; due to the small size, the battery doesn't last as long as the battery on my Mac.
Pros
Small size
No drivers required
Can share to 5 devices
Fast connection for a wireless card
Sprint has a fairly large footprint with good coverage
Cons
Poor battery life
5 GB/month data cap (may not be an issue for the casual user)
For a consumer, the monthly cost could be a barrier.
Overall, if you have a need for mobile broadband, I don't think that you can go wrong with the MiFi.