Over the course of the last few years, my closet of networking equipment has grown and while everything works, it wasn't the prettiest sight. I had originally tried to color code all the cables and arrange things as neatly as possible, but it didn't quite work out. I finally got tired of looking at it (after viewing pictures of other people's clean networking racks), purchased a 48 port patch panel that had RJ45 connectors on the front and the back and a bunch of white cables of various sizes (color coding was a waste for me as it really didn't matter what went where). My original plan when I setup the rack was to use patch panels, but at the time, I was looking at patch panels that I had to terminate in the back; this would have meant a bunch of wires coming from the wall that I'd terminate in the panel. I opted to put all the RJ45 jacks in the wall and have patch cords going from the wall to the equipment.
This is the before picture (yes, I know it is blurry; didn't notice it until after I had already cleaned everything up. My son is a Michael Jackson fan and thus the song on the Squeezebox!)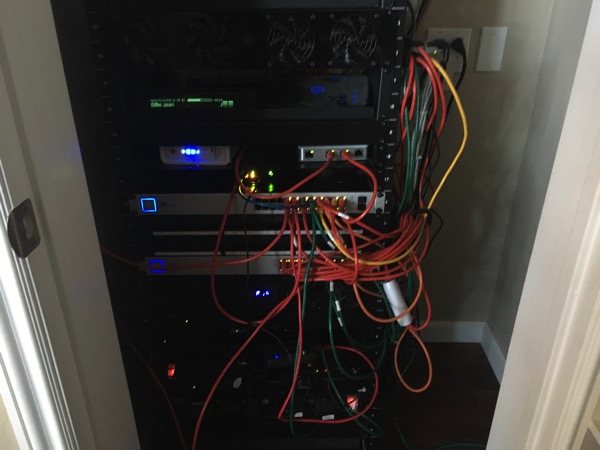 By rearranging the cables such that the only cables coming out the front go from the patch panel to the switches, I was able to take the clutter and move it to the back. The back doesn't look half bad as I used shorter cables and wire tied them together.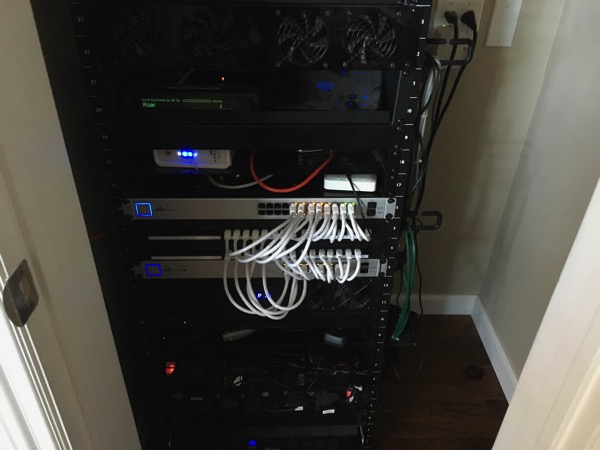 These changes, of course, don't change the functionality of my setup, but I like how clean this looks.