Ever since I started working, I've had to connect back to an office network either occasionally or full time. First there was AppleTalk Remote Access and then there were a variety of VPN solutions that different companies employed. While macOS has gotten better at supporting VPNs natively, it really only handles Cisco and IPSec VPNs. This has worked for some of my connections, but for others, I've had to have a separate VPN client. Those VPN clients have ranged from bad to worse in terms of quality. Why they are so bad, I have no idea.
Several years ago, I tried out ShimoVPN to connect to my companies network as the native Mac client didn't have a feature I wanted (I can't remember what). Shimo worked, but the native client was good enough and I forgot about Shimo.
Now that I'm self-employed again with several clients, I decided to take another look at Shimo. In particular, I didn't want to run all my traffic over a client's VPN and I also wanted to be able to connect back to my own OpenVPN server (the native Mac client doesn't handle OpenVPN and the free OpenVPN client didn't work). After I installed ShimoVPN, it imported my configurations and I was quickly able to get things setup. At that point, it didn't buy me anything for my clients over the native Mac client.
The power of ShimoVPN comes into play in how it can setup specific routing. I only want certain traffic to go over the VPN and Shimo lets me configure that on a per VPN basis.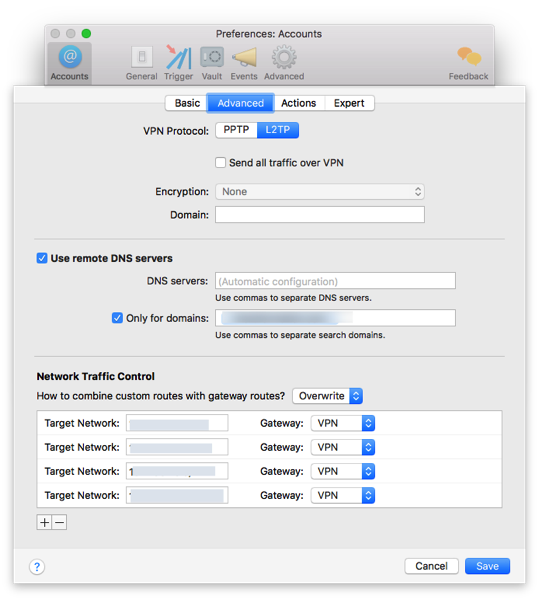 I set this up for 2 of my clients and am able to have both VPNs up at the same time and connect to sites on both without having to disconnect and connect to a particular VPN. This feature alone is worth the money for Shimo!
Shimo has one additional feature that make it a must use application for me. The first is that it automatically reconnects to the VPN when my machine wakes up. This, of course, works best when 2FA isn't used as I'm not prompted. Another feature it has is the ability to setup triggers to connect and disconnects from certain VPNs based on WiFi SSID, location, and other conditions. I haven't used this feature much, but the potential to simplify things is great.
Pros
Handles OpenVPN connections.
Allows custom routing.
Has triggers for certain events.
Reconnects automatically upon disconnect.
Cons
Cost (built in macOS client is free).
Powerful features require some networking knowledge to setup.
Summary
ShimoVPN is a utility that most people won't need, but for those that do, it will pay for itself pretty quickly. VPNs are necessary and while ShimoVPN won't me on anyone's holiday wishlist, it is definitely going to remain a tool in my toolbelt.